Dean Ambrose - Stone Cold Podcast: Aug '16
Special Review - Stone Cold Podcast - Dean Ambrose
6 months ago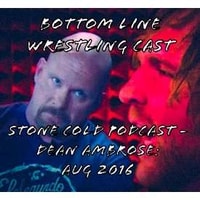 Special Review - Dean Ambrose - Stone Cold Podcast: August 2016
This week Mike & JV will review and discuss the controversial and awkward August 2016 interview between Stone Cold Steve Austin & Dean Ambrose (Jon Moxley) from the WWE Network's "Stone Cold Podcast". 
Check out "Talking Taker" Alex & Travis are "digging up" the career of the Undertaker. You can now dig deep back into their archives of  episodes and explore the entire run of the Deadman. Give them a follow on Twitter @TalkingTaker and follow their YouTube page!  This month Alex & Travis book 5 matches for the Undertaker if he were to enter "The Forbidden Door" 
Booking the Territory: The Unprofessional Wrestling Podcast - Mike Mills, along with his hilarious & informative team of Doc Turner & Hardbody Harper, break down episodes of NWA WCW Saturday Night from 85-91. This week is NWA WCW  - June 15, 1991
Join the Booking the Territory Patreon Page at Patreon.com/BookingTheTerritory at the $5 Tier to join JV & Mike on the "Extreme ECW Live Cast". On the BTT Patreon episode, HCTV 135-138 - Nov 21 - Dec 12, 1995. On the free feed-  ECW ECW HCTV 88 & 89- Dec 27, 1994 & Jan 4, 1995
Check out Our Vantage Point: Retro Wrestling Podcast with Joe Marotta & Michael Quinn, this week is Episode 295 - Mt Rushmore & Death Valley - Survivor Series Teams, WWF Championship Wrestling 4/6/85
Please reach out and support us on Twitter  @bottomlinecast, @MPRU83 & @JOHNVANDAMAGE
Please take the time to Subscribe and write a Five Star Rating at Apple Podcasts!
Please Subscribe to our YouTube channel, Bottom Line Wrestling Cast.
Thank you for listening!
Find out more at https://bottomlinecast.pinecast.co
Send us your feedback online: https://pinecast.com/feedback/bottomlinecast/064e832d-0c4a-48cd-96b3-cfeba71e9e7e
This podcast is powered by Pinecast.