Watch Along - Stone Cold vs. The Rock: WM XV: March '99
The Career of Stone Cold Steve Austin
a year ago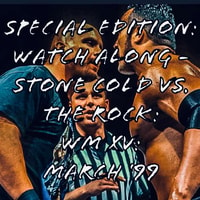 Special Edition: Watch Along - Stone Cold vs. The Rock: WM XV - March '99
This week Mike & JV will be discussing and watching along with the Main Event from WrestleMania XV, The WWF Championship Match: The Rock vs. Stone Cold Steve Austin . Feel free to listen as usual, we do provide the match audio in the background. But the best experience is to Watch Along!
Join us on the WWE Network at the timestamp of (02:18:50) the image will be a wide shot of the arena, just seconds before The Rock makes his entrance.
Please check out our friends!
Talking Taker - Check out our "brother" podcast, "Talking Taker", Alex & Travis are "digging up" the career of the Undertaker. They are way in at this point, go back into their archives and explore the 90's run of the Deadman. This week they are doing a special Watch Along episode for the 1991 Royal Rumble!
Booking the Territory: The Unprofessional Wrestling Podcast - Mike Mills, along with his hilarious & informative team of Doc Turner & Hardbody Harper break down episodes of NWA WCW Saturday Night from 85-88 and Smoky Mountain Wrestling from the start in 1992 and they are currently in 1994. This past week on the NWA/WCW episode they covered the NWA WCW from 04/23/88 & 04/30/88. On the SMW Show they will have covered 01/28/95 Ep 157.
Free Your Geek - On this past week's Episode 76: Jedi Masters of the Universe: J-Free & KBe will be discussing Spider-Man leaving the MCU, Masters of the Universe, & The Boys: Season 2!
If you would like more wrestling talk from Mike & JV, please consider joining Patreon.com/BookingTheTerritory at the $5 to join Mike & JV on their journey through ECW, starting from 1993. Mike Mills always says "It's so bad, it's good!"
Mike & JV have just released the Special Super Card: Watch Along Live Commentary: Super Summer Sizzler Spectacular: June 19, 1993, which is now available!
This Wednesday they will be releasing Ep 13 & 14 of ECW HCTV from June 29 & July 6, 1993.
Please take the time to Subscribe and give us a Five Star Rating on Itunes!
Feel free to make suggestions and chat with us, at @MPRU83 & @JOHNVANDAMAGE
Thank you for listening!
Find out more at https://bottomlinecast.pinecast.co
Send us your feedback online: https://pinecast.com/feedback/bottomlinecast/162426f7-f8c7-44ea-9dc1-0c07c42f302a
This podcast is powered by Pinecast.