The Stone Cold Top 5 of 1998
The Career of Stone Cold Steve Austin
2 years ago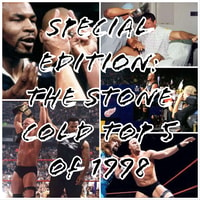 Special Edition: The Stone Cold Top 5 of 1998
On this special episode, we discuss our Top 5 Stone Cold moments/matches/angles from Austin's greatest year, 1998!
Upcoming on The Bottom Line Wrestling Cast
7/31/19 - Ep 41 - Jan- Feb'99
8/07/19 - Ep 42- St Valentine's Massacre : Feb '99
Talking Taker -"Concrete Crypt Match" - The Undertaker vs. The Dudley Boyz at Great American Bash 04
Shout out & Special Thanks to Mike Mills & "Booking the Territory" - NWA WCW Sat Night 03/26/88 on Thursday, SMW Rasslin Recap Ep 152 12/24/94 on Sunday
This past week, BTT Patreon $5 Tier - Extreme ECW Live Cast - Episode 5 - HCTV 9 & 10 - June 1 & 8, 1993, Follow us @extremecast on Twitter
Check out "Free Your Geek Podcast" for your Pop Culture fix!
The Bottom Line Cast is also available on ITunes, Stitcher, Podbean, Spotify, Tune In, Google Play, Radio Public , I Heart Radio
Please Follow on Twitter Plugs, Facebook Page, @MPRU83 @JOHNVANDAMAGE @bottomlinecast @extremecast
Find out more at https://bottomlinecast.pinecast.co
Send us your feedback online: https://pinecast.com/feedback/bottomlinecast/2e7f4190-f9fb-4ff7-8de9-bac1d3235e5a
This podcast is powered by Pinecast.