Stunning Steve: E4 - Dangerous Alliance: Nov '91
Episode 4 - Special Series - Stunning Steve
7 months ago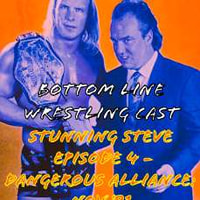 Stunning Steve: E4 - The Dangerous Alliance: Nov '91
On this episode 4 of our special series "Stunning Steve", Mike & JV discuss and recap November of 1991 and the formation of Paul E. Dangerously's Dangerous Alliance. 
In addition to covering Austin's matches from November '91 we will be watching two matches live, Stunning Steve & Big Van Vader vs. PN News & Tom Zenk from 11/16/91 on World Championship Wrestling & Stunning Steve & Arn Anderson against Dustin Rhodes & Beautiful Bobby Eaton from WCW Worldwide Wrestling on 11/23/91
Check out "Talking Taker" Alex & Travis are "digging up" the career of the Undertaker. You can now dig deep back into their archives of  episodes and explore the entire run of the Deadman. Give them a follow on Twitter @TalkingTaker and follow their YouTube page!  This month's episode covers No Mercy 2002 - Undertaker vs Brock Lesnar in a Hell in a Cell match. 
Booking the Territory: The Unprofessional Wrestling Podcast - Mike Mills, along with his hilarious & informative team of Doc Turner & Hardbody Harper, break down episodes of NWA WCW Saturday Night from 85-91. This week is NWA WCW  - May 11, 1991
Join the Booking the Territory Patreon Page at Patreon.com/BookingTheTerritory at the $5 Tier to join JV & Mike on the "Extreme ECW Live Cast".
On the BTT Patreon episode, Supercard Special 14 - November to Remember '95 - Part 1. On the free feed-  ECW ECW HCTV 84 & 85- Nov 29 & Dec 6, 1994
Check out Our Vantage Point: Retro Wrestling Podcast with Joe Marotta & Michael Quinn, this week is Episode 292 - Best Ridiculous Gimmicks, WWF Championship Wrestling 3/15/85
Please reach out and support us on Twitter  @bottomlinecast, @MPRU83 & @JOHNVANDAMAGE
Please take the time to Subscribe and write a Five Star Rating at Apple Podcasts!
Please Subscribe to our YouTube channel, Bottom Line Wrestling Cast.
Thank you for listening!
Find out more at https://bottomlinecast.pinecast.co
Send us your feedback online: https://pinecast.com/feedback/bottomlinecast/44042375-91f1-4e6a-85b2-5c9270adf4f7
This podcast is powered by Pinecast.