Extreme ECW Live Cast - Hostile City Showdown '95
Supercard Special #10 - ECW Hostile City Showdown '95
1 year ago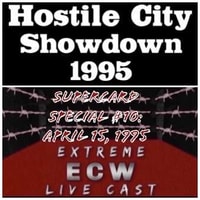 Extreme ECW Live Cast: Hostile City Showdown '95
This is an exclusive episode. Listen to the latest episodes of the Extreme ECW Live Cast on the $5 tier on the Booking the Territory Patreon at patreon.com/bookingtheterritory
The early episodes of the Extreme ECW Live Cast are now available, please subscribe and follow us on twitter @ExtremeCast
This week Mike Pru & JV will be watching along with Hostile City Showdown '95 from April 15, 1995. Mike P & JV will be watching & discussing the following matches:
Match #1 - Mikey Whipwreck vs. Stevie Richards
Match #2 - Tsubo Genjin vs. Tony Stetson
Match #3 - Barbed Wire Baseball Bat Match - Axl Rotten vs. Ian Rotten
Match #4 - Raven vs. Tommy Dreamer
Match #5 - ECW World Television Championship Match - Eddie Guerrero vs. Dean Malenko
Match #6 - ECW World Heavyweight Championship Match - Shane Douglas vs. The Sandman
Match #7 - ECW World Tag Team Championship Match - The Public Enemy vs. The Pitbulls
Match #8 - Ron Simmons vs. 911
Match # 9 - Cactus Jack vs. Terry Funk
Please remember to send us feedback and thoughts on the show to the twitter feeds listed below or email [email protected] Follow the ECW LiveCast host at:
Find out more at https://bottomlinecast.pinecast.co
Send us your feedback online: https://pinecast.com/feedback/bottomlinecast/443c16b3-51d7-43e7-a4f7-d0c3565259ac
This podcast is powered by Pinecast.