E58 - Hunting Hunter: Sept-Oct '99
Episode 58 - The Career of Stone Cold Steve Austin
a year ago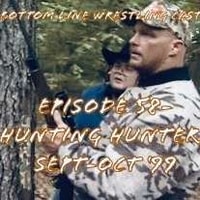 Episode 58 - Hunting Hunter: Sept-Oct '99
This week Mike & JV are covering the continuing feud between the WWF Champion Triple H & Stone Cold Steve Austin. Triple H is going to show Austin how much of a tough guy he is by killing a baby rattlesnake, and Stone Cold is hunting Triple H, or pumpkins, with JR in the woods of Michigan.
Check out "Talking Taker" Alex & Travis are "digging up" the career of the Undertaker. You can now dig deep back into their archives and explore the 90's run of the Deadman.
Booking the Territory: The Unprofessional Wrestling Podcast - Mike Mills, along with his hilarious & informative team of Doc Turner & Hardbody Harper, break down episodes of NWA WCW Saturday Night from 85-88 and Smoky Mountain Wrestling from the start in 1992 and they are currently in 1995.
This week on the NWA/WCW episode they covered the NWA WCW from 09/10/88. On the SMW Show they will be covering 06/17/95, Ep 177.
Join the Booking the Territory Patreon Page at Patreon.com/BookingTheTerritory at the $5 Tier to join JV & Mike on the "Extreme ECW Live Cast". Mike & JV will be doing Watch Along Live Commentary coverage of ECW Hardcore TV. This past week on Ep 15: HCTV 31 & 32: Nov 9 & 16, 1993. New episodes available bi-weekly on Wednesdays!
Check out Our Vantage Point: Retro Wrestling Podcast with Joe Marotta & Michael Quinn, this week is the season finale, Ep 160 - Salute to the Mid Card - Owen Hart, Final Royal Flush of Entrance Music, & Review of Los Luchadores Ep 1. New Episodes every Monday morning!
Check out Free Your Geek, check out their most recent episode, Episode 83: Stream a Little Stream of Me.
Please reach out and support us on Twitter & Facebook @bottomlinecast
Please take the time to Subscribe and give us a Five Star Rating on Itunes!
Feel free to make suggestions and chat with us, at @MPRU83 & @JOHNVANDAMAGE
Please Subscribe to our new YouTube channel, Bottom Line Wrestling Cast
Thank you for listening!
Find out more at https://bottomlinecast.pinecast.co
Send us your feedback online: https://pinecast.com/feedback/bottomlinecast/8ea57d0d-d81a-43d9-9d22-910b79ad2d1a
This podcast is powered by Pinecast.