Stunning Steve: E1 - Summer of '91: May-July '91
Special Series: Stunning Steve
9 months ago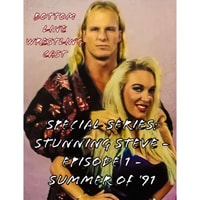 Stunning Steve: E1 - Summer of '91: May-July '91
On the debut episode of our new special series "Stunning Steve", Mike & JV discuss and recap Stunning Steve Austin's arrival in WCW in May of 1991. We will cover his early television matches, his TV Championship match with Beautiful Bobby Eaton, and one of the worst matches in wrestling history, "The Skywalkers II", Scaffold match from the 1991 Great American Bash!
Check out "Talking Taker" Alex & Travis are "digging up" the career of the Undertaker. You can now dig deep back into their archives of  episodes and explore the entire run of the Deadman. Give them a follow on Twitter @TalkingTaker and follow their YouTube page!  This month's episode covers 5 year Anniversary (Biography Review, Greatest Summerslam Matches, Listener Q&A)
Booking the Territory: The Unprofessional Wrestling Podcast - Mike Mills, along with his hilarious & informative team of Doc Turner & Hardbody Harper, break down episodes of NWA WCW Saturday Night from 85-91. This week is NWA WCW  - March 9, 1991
Join the Booking the Territory Patreon Page at Patreon.com/BookingTheTerritory at the $5 Tier to join JV & Mike on the "Extreme ECW Live Cast".
On the BTT Patreon episode, ECW Hardcore TV 126-129: September 19- October 10, 1995. On the free feed-  ECW Supercard Special #6 - Heatwave '94
Check out Our Vantage Point: Retro Wrestling Podcast with Joe Marotta & Michael Quinn, this week is Episode - 283 - True or False: Honky Tonk Man is the Greatest IC Champion; 1985 Canon - January 19, 1985
Please reach out and support us on Twitter  @bottomlinecast, @MPRU83 & @JOHNVANDAMAGE
Please take the time to Subscribe and write a Five Star Rating at Apple Podcasts!
Please Subscribe to our YouTube channel, Bottom Line Wrestling Cast.
Thank you for listening!
Find out more at https://bottomlinecast.pinecast.co
Send us your feedback online: https://pinecast.com/feedback/bottomlinecast/9f3ec448-0092-40ac-afe9-bbdc7f9cd907
This podcast is powered by Pinecast.