E47 - Backlash: April '99
Episode 47 - The Career of Stone Cold Steve Austin
a year ago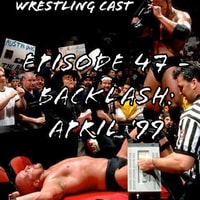 Episode 47 - Backlash: April '99
This week Mike & JV will discuss the final weeks of April 1999. The Rock plans a funeral for Stone Cold Steve Austin. The Rock & Stone Cold Steve Austin have a great match at Backlash, and the following night Steve Austin is going to reluctantly help the McMahon family.
Check out "Talking Taker" Alex & Travis are "digging up" the career of the Undertaker. You can now dig deepack into their archives and explore the 90's run of the Deadman. This week is Episode 109 - No Way Out 2005 - Luther Reigns
Booking the Territory: The Unprofessional Wrestling Podcast - Mike Mills, along with his hilarious & informative team of Doc Turner & Hardbody Harper break down episodes of NWA WCW Saturday Night from 85-88 and Smoky Mountain Wrestling from the start in 1992 and they are currently in 1995.
This week on the NWA/WCW episode they covered the NWA WCW from 05/14/88. On the SMW Show they will be covering 02/18/95 Ep 160
Join the Booking the Territory Patreon Page at Patreon.com/BookingTheTerritory at the $5 to join JV & Mike on their new venture, Extreme ECW Live Cast.
Mike & JV will be doing Watch Along Live Commentary coverage of ECW Hardcore TV, This week on the ECW Extreme Live Cast, we cover ECW Hardcore TV Ep 15 & 16 from July 20 & July 27, 1993. Check it out!
Check out Free Your Geek, Episode 79 is now available!
Please reach out and support us on Twitter & Facebook @bottomlinecast
Please take the time to Subscribe and give us a Five Star Rating on Itunes!
Feel free to make suggestions and chat with us, at @MPRU83 & @JOHNVANDAMAGE
Thank you for listening!
Find out more at https://bottomlinecast.pinecast.co
Let us know what you thought of the Austin vs. Stone Cold match from Backlask '99! https://pinecast.com/feedback/bottomlinecast/c965de96-bf59-4800-8b2c-17372156936a
This podcast is powered by Pinecast.